The Answer is NOW.
The earlier the better!  Did you know that most of the top rated DJs in Manitoba are constantly evolving their skill level?
The movement for self improvement will typically yield higher expectations of price.  It does for myself.  As I train and build my experience levels in ways that I can translate to my clientele, I can guarantee today that my price today will be the lowest it's ever going to be.  By the time I present my services to someone later on, I could very well have given myself a well deserved raise.
This Does Not Apply to All Companies, or Individuals.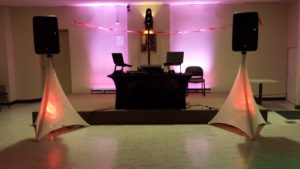 The ones that are continually improving themselves will bring their new skills to the table at their next event, and by the following morning they will have sold themselves on a better wage.
This is typically what you find with sole proprietors in the market.  For bigger companies with multiple DJs on hand, they will keep costs relatively the same.  The reason being, their employees are mostly part time.  Their dedication is not required by the company and do not require heavy training.  There are even people out there who operate on their own part time.  Simply put: Part-Time Effort = Part-Time Results.
Where as a full time professional single-operator will put in the effort and funds required to educate themselves on the best practices in the industry.
When Should I Book My DJ?
Would you rather wait til all the good DJs get booked up, or would you get the best possible rate for your event even if it's one to two years away?  I personally believe that you should have the DJ booked after you find the Venue(s) and secure your dates.  In some cases, you may even want to book your DJ first (that's right).  If your DJ is in high enough demand, you may want to source them out first so you know what dates you can work with before booking anything else.
Do your homework and research your DJs.  If you are looking for something specific, hear what they have to say and how they are going to service you and your big Celebration.
You can find out why it's important to meet the DJ here.
Did you wait too long?
I'd love to hear from you!
-Steven
Redefining the Celebration Experience
www.DJYourLife.com