This past Saturday I had the honor of providing Sound, Entertainment and Master of Ceremony services for two very wonderful people.  Both of them were from neighboring towns; Ninette and Dunrea Manitoba.  The Wedding Celebrations was held at her parent's farm just outside of town with 220 of their friends and family.
Her parents worked very hard in the weeks that preceded to make sure the yard stayed in pristine shape.  The lawn was cut and trimmed and as green as I've ever seen.  The farm itself was situated in a valley with rolling hillsides as the back drop.  The accommodating space was enough for a great majority of people to bring their campers to stay the night.
The Ceremony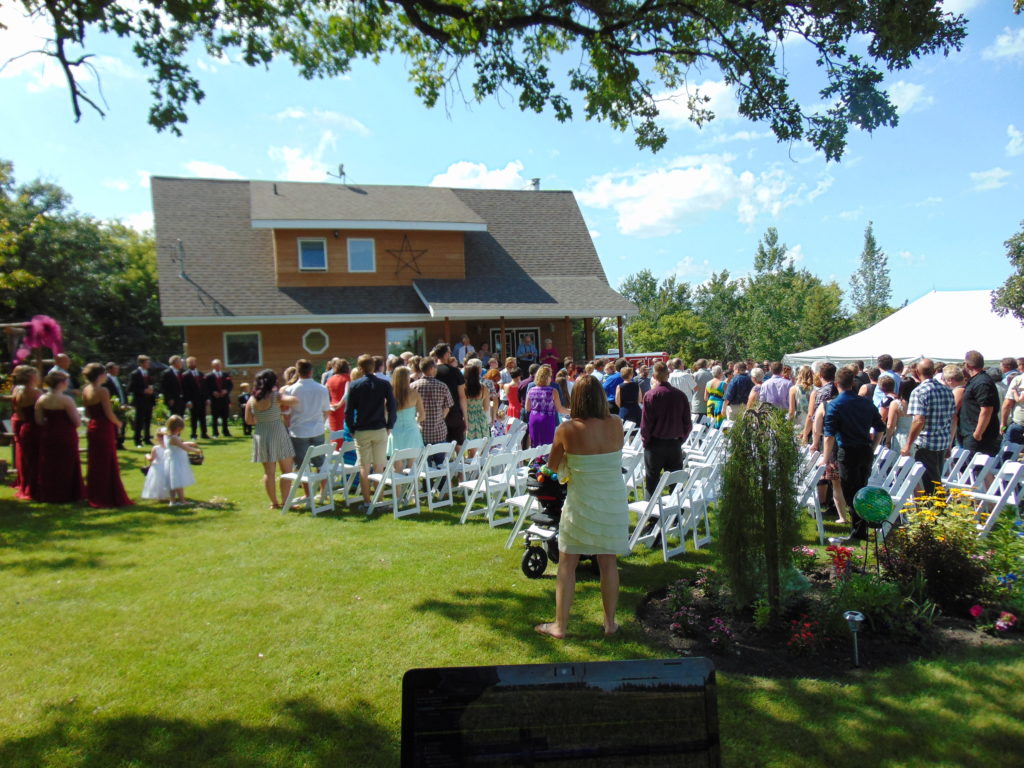 Their ceremony started at 3:30 where they exchanged vows and planted a tree to symbolize their union as they grow together.  The weather was wet earlier in the week but there was not a cloud in the sky for them that day.  They opened the bar for everyone to cool off where the iced water was plentiful.  We played classical remixes of pop songs by the Vitamin String Quartet while the guests arrived.  For the wedding party's processional they chose the Beetle's – Here Comes the Sun.  Andrea and her father walked down aisle with Israel Kamakawio'ole – Over the Rainbow.  For the book signing it was The Temptations' – My Girl and for their recessional we played the Zach Brown Band's – You Make Loving You Easy
The Entrances, The Speeches and Toasts
As we proceeded with the reception, it was clear that everyone was in great spirits.  Being the Master of Ceremonies allowed me to keep the pace moving.  We introduced the wedding party and of course, our newlyweds.  Andrea and Charlie picked the theme songs for everyone to be introduced to.  They chose ZZ Top's – Sharp Dressed Man for the gents, and Justin Timberlake's – Can't Stop the Feeling for the ladies.  For themselves they chose AC/DC's – You Shook Me All Night Long.
Andrea's cousin Scott said Grace for us before we invited everyone to partake in dinner.  It was a buffet style meal with cranberry chicken, roast beef and all the fix-ins. Andrea and Charlie wanted to release the tables with song titles.  There was 24 tables that had a song chosen for each of them.  It worked out really well since the songs they chose were easily identifiable.
After the meal we began our speeches and toasts.  I invited everyone that they had mentioned to the podium.  It was heart felt, emotional and full of good laughs.  I as well had to acknowledge that it is an emotional roller coaster.  Afterwards, we cleared the tables on the dance floor.
The Magic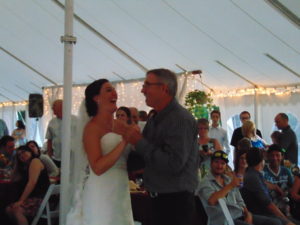 The cake cutting took place as we explained the importance of time honored tradition, and I went into detail of where it came from.  We then went from one side of the tent, we all made our way to the dance floor.  Here is where we made some magic happen.
When I first met with Andrea and Charlie I found out that they wanted to personalize their wedding.  One of the ways we determined that brought the whole thing together was by presenting their Love Story.  They decided to have this presented before their first dance.  It worked out wonderfully.  I took the time to ask them a few questions, and crafted a speech that highlighted their lives together, and how we got to the point we were all Celebrating.  There was some great moments through out the presentation that had everyone laughing and cheering! We then had their first dance with Lee Brice's – Woman Like You.  Her father was then invited for a moment with his Daughter as we played Heartland's – I Loved Her First.
The Celebration
We opened the rest of the night with Alabama's – I'm In a Hurry with everyone joining in.  The mood was set as everyone danced the whole night through.  Andrea tossed her bouquet with Gwen Stefani's – Hollaback Girl.  We also stopped to surprise/honor Andrea's parent's 40th anniversary. We played all types of music that kept the pace very up beat where everyone young and old could share in a great experience.  It meant a lot to Andrea and Charlie that everyone was included and they were.  And of course had Nick Lowe's – I Knew the Bride When She Used to Rock & Roll

From the beginning of the afternoon, til the last song; everyone knew it was a celebration they were happy to be apart of!  I was happy to provide them with something more than expected from 80% of the services out there.  We wouldn't have been able to achieve this level without Andrea and Charlie's trust in our services.  They allowed me to work with them.  They allowed us to create once in a lifetime moments in fun and creative ways.  I am so pleased to have the honor of being apart of their Wedding Celebration, and this is my tribute to that wonderful day.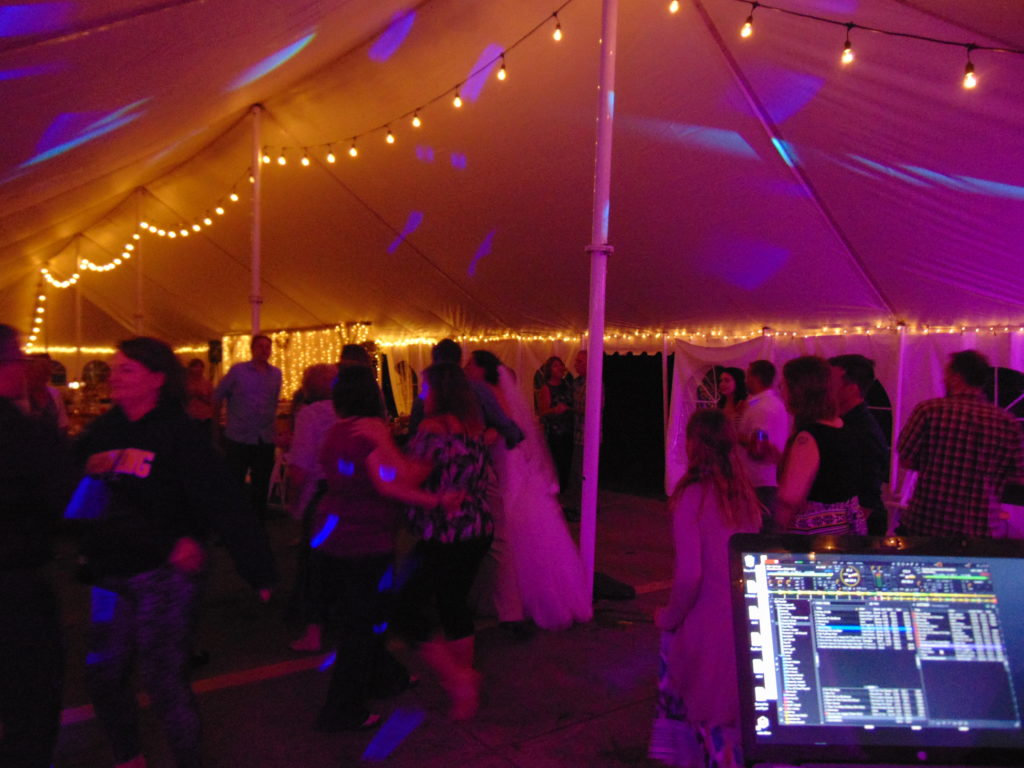 For more information on how to book your wedding with us: Click Here
-Steven
Redefining the Celebration Experience
www.DJYourLife.com
204-881-3548
204-204-995-6664
StevenP@DJYourLife.com